The Talyllyn Railway's 2023 season is now well under way, under new management.
Following Stuart Williams' departure to a new post, the General Manager role has been taken over by two of the Railway's senior managers. Lorraine Simkiss and Liz Porrett will now share this role for the foreseeable future. Lorraine will become General Manager (Commercial) and take responsibility for all income generation and human resource matters for both Staff and Volunteers. Liz takes on responsibility as General Manager for Operations, Engineering and Developments.
Stuart was delighted to be able to leave his post at the TR in safe hands and in a sound financial position after the challenges of Covid over the past three years. Trading in 2022 had been excellent, especially during December and over Christmas and New Year, which was exceptional. In December the Railway ran a very festive Tinsel and Turkey trains. These proved popular with visitors and locals alike, especially as we were the only heritage railway running at this time of year in the area.
Lorraine commented:

'Well, what a start to the year this has been. We said farewell to Stuart thanking him for all his hard work and effort and recognising the significant positive impact he had made to the railway in his time here, and wishing him all the very best on his new adventure in Orkney. And for Liz and I, an exciting opportunity to lead and guide the railway amidst uncertain times.'
David Ventry, Talyllyn Railway Board Chairman, added:

'We are delighted to appoint Lorraine and Liz into their new roles. They will provide continuity and stability in uncertain times, and we are confident that they will successfully lead the railway forward.'
Liz's involvement with the TR began after volunteering with the Tracksiders group. Her previous post on the TR staff enabled us to achieve significant steps forward in areas of health and safety, and the Railway's environmental impact. Moving to the General Manager (Operations) role places Liz in a position to oversee the exciting projects that are moving the Railway forward, from the major National Lottery Heritage Fund project to policy improvements, additional training initiatives and streamlining existing processes.
Lorraine said:

'These changes are undoubtedly the way to keep us progressing as an organisation. When we want to thrive rather than just survive in these times; standing still is never an option.'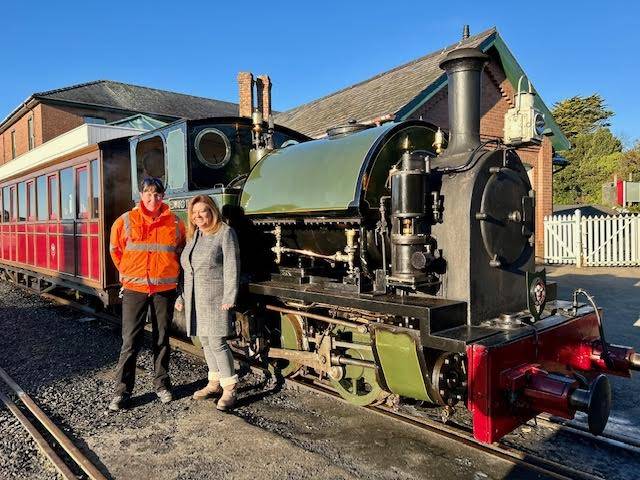 Liz Porrett and Lorraine Simkiss in front of No 4 Edward Thomas at Wharf
---
For further information about this press release please e-mail: [email protected] or phone 01654 710472.