The Talyllyn Railway played host to a distinguished visitor this Autumn in the person of the Right Reverend Cleophas Lunga, the Bishop of Matabeleland in Zimbabwe.
Bishop Cleophas had previously worked as a Parish Priest in the same parish, where Nigel and Celia Adams had also served, They are now both retired from full time ministry and living in Tywyn, where they have been very active volunteers for many years on the Talyllyn Railway.
Following his election as Bishop of Matabeleland in 2008, Bishop Cleophas's former parishes in the Coventry area have maintained an interest in and support for his ministry in Zimbabwe. His continuing friendship with Nigel and Celia, who both now serve in retirement as Priests here in Tywyn, has generated an additional interest in the Bishop's work from the churches in the Tywyn area.
On several occasions in the past ten years, the Talyllyn Railway has held a special event called "Stations at Stations' on Good Friday. Last year these services were conducted by the Right Reverend Michael Langrish, the former Bishop of Exeter. The service of the 'Stations of the Cross,' normally takes place in a church, but has been adapted as a spiritual pilgrimage at the stations along the line from Tywyn Wharf to Nant Gwernol. On some of these occasions, those taking part in have given donations to support the work of the Matabeleland diocese. Bishop Cleophas also has an episcopal crozier that was given to him made from the branches of a tree at Brynglas, one of the smaller intermediate stations on the line.
While he was in the UK attending meetings in London recently, Bishop Cleophas visited his former churches in Coventry and he also made a visit to Tywyn. He addressed 'Churches Together in Tywyn' to tell people about his work in a very different and often challenging diocese. The diocese of Matabeleland in Zimbabwe covers an area of 200 by 400 miles; over half the size of the UK. Much of the area is linked only by rough bush roads, so a visit to one of his more remote parishes from his Cathedral base in Bulaweyo often means a car journey of several days.
He was invited to take a ride on the Talyllyn Railway, where he joined the engine crew on the footplate of Loco No 7 "Tom Rolt" for the journey to Nant Gwernol and was pleased to be able to thank the Railway for the support that members and friends have given to his work.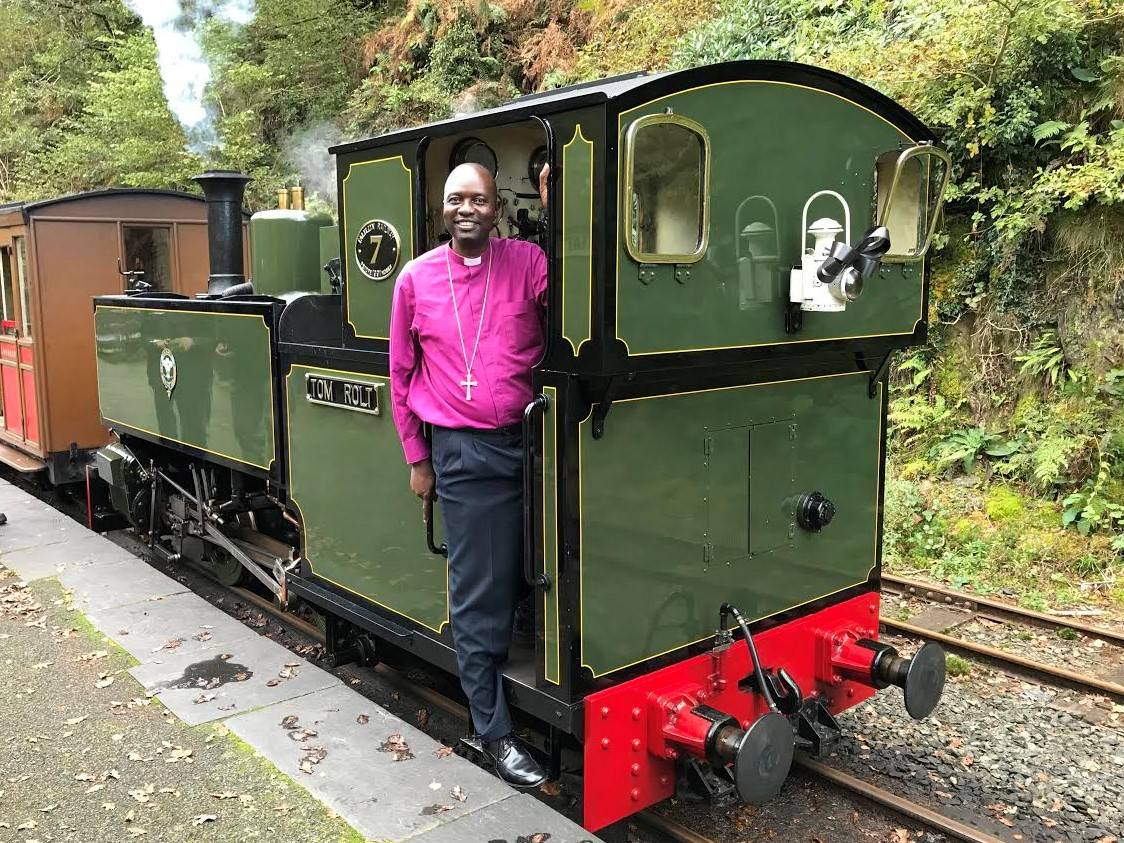 Our photo shows Bishop Cleophas on the footplate of Loco No 7 at Nant Gwernol. Readers will notice that Bishop Cleophas, who is of Zulu descent, is 6ft 6inches tall and almost dwarfs the height of the Cab! So having enjoyed his ride up on the footplate, even if a little cramped, he was very pleased to make the return journey in the relative comfort of one of our carriages!
---
For further information about this press release please e-mail: [email protected] or phone 01654 710472