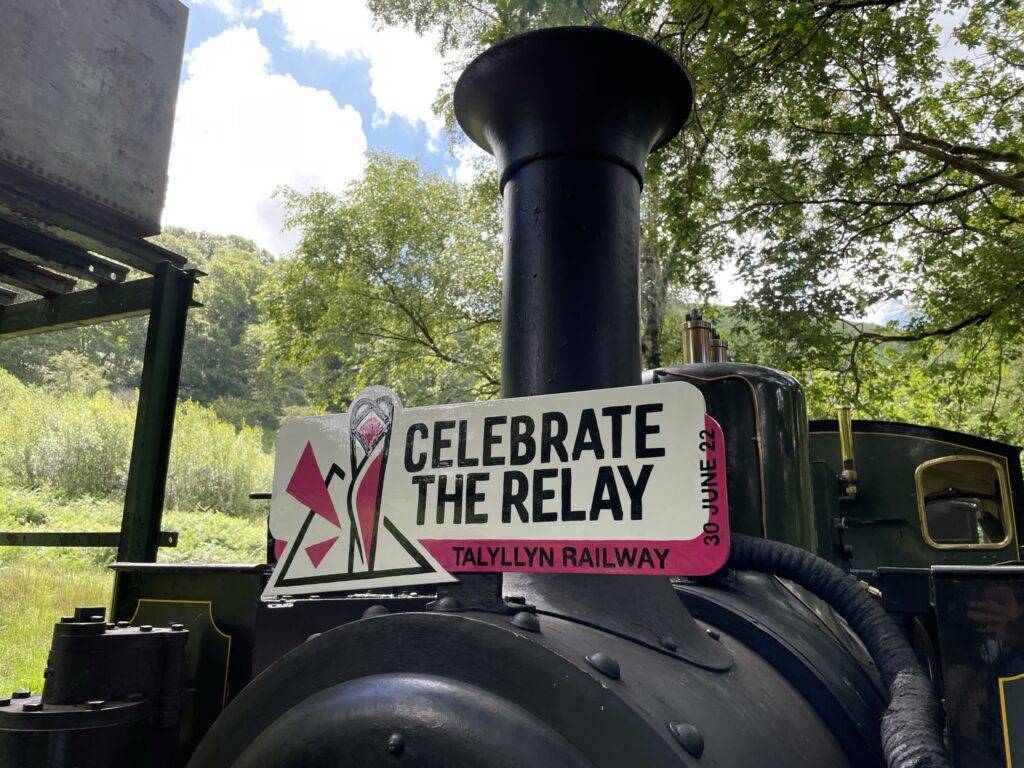 The Talyllyn Railway played its part in the build-up for the Commonwealth Games by welcoming the Queen's Baton Relay and carrying it on the Railway between Tywyn and Abergynolwyn.
The Baton arrived in Wales on 29th June having completed its tour of the Commonwealth nations spanning 269 days, and some 90,000 miles.  The visit to the Tywyn area was on the second day of the five day Welsh route and involved a walking relay through Tywyn with 30 local bearers carrying the Baton.  Two local primary schools also joined in, and the crowd ended the walking route at Tywyn Station where 140 children, 16 Police officers, 15 teachers, 12 VIPs and the Baton joined the train.
The Baton was carried on the train by local Councillor Beth Lawton, and initially started on the footplate of loco No.7 'Tom Rolt', which was a squeeze as the Baton always had to have a police officer with it, so 4 people fitted on the tight footplate!.  At each station or halt, the train stopped, and the Baton moved to a different carriage for everyone to see.  At Cynfal halt the train was met by a runner from the 'Race the Train' event which is held every year in August.  The runner, joined by two police officers, carried the baton alongside the train, being passed to two other runners, before re-joining the train at Rhydyronen.
The train terminated at Abergynolwyn, where the Baton was taken into the village and was welcomed by a Silver Band before continuing its journey into Ceredigion.
Stuart Williams, General Manager at the Talyllyn Railway said:
"We were delighted to be approached by Team Wales last year to be part of the Baton's journey through Wales.  We were able to work together with the town council to bring the whole community together for what was a fantastic event."
Chris Jenkins, Chief Executive Officer of Team Wales commented:
"The Queen's Baton Relay's leg in Tywyn was a highlight as the whole community turned out on the streets as we walked down to Talyllyn railway. I have never seen so many happy faces as the school's board the train with its Queen's Baton Relay headboard for the journey to Abergynolwyn. A race the train and passing the baton from carriage to carriage at stations added to a fantastic event."