The sun shone on the Talyllyn Railway on Monday 14 May 2018 for a day that marked not only the 67th Anniversary of the World's First Preserved Railway, but also the return to passenger duty of the Railway's locomotive No.3 'Sir Haydn' after a major overhaul. The locomotive, which this year celebrates its 140th Anniversary, has been out of service since 2012 and since 2015 has been at the Vale of Rheidol's workshops in Aberystwyth for the work to be carried out.
No.3 was returned to the Talyllyn Railway at the end of April and has since been going through a period of testing and running in. This was the first time that it had hauled a passenger service since its return.
The day itself also marked the annual commemoration of the inauguration of the World's First Preserved Railway with the first train being run from Tywyn Wharf station to Rhydyronen on 14 May 1951. Known as Founders' Day it includes a re-enactment of the cutting of the tape originally performed by the first chairman of the Talyllyn Railway Preservation Society, Bill Trinder before the first train set out from Tywyn Wharf station to Rhydyronen.
'Sir Haydn' did not participate in that first day, although the ex-Corris Railway locomotive had arrived at Tywyn by that time having been saved from being scrapped when it was purchased for the Talyllyn Railway. When it was returned to steam it initially proved unreliable due to the state of the track, but later improvements meant that it could enter service again and has since become one of the Railway's most popular locomotives. In 1955 it also appeared in the Rev. Awdry's Skarloey Railway stories as its alter-ego 'Sir Handel'.
For this year's celebration No.3 hauled a special train for some of the Railway's regular donors who are members of the 'Heart of Gold' club, which provides additional support to keep the wheels turning on this world-famous line. During the trip members of the group were also informed about some of the Railway's future plans and were treated to a guided tour of the Railway's workshops at Tywyn Pendre.
Locomotive No.3 was originally built in 1878 at the Falcon works of Henry Hughes' 'Hughes Locomotive & Tramway Engine Works' in Loughborough for the Corris Railway. When that Railway closed it remained out of service, along with Corris Locomotive No.4, at Machynlleth station until both were purchased by the fledgling Talyllyn Railway Preservation Society in 1951. It was named 'Sir Haydn' after the Talyllyn Railway's previous owner Sir Henry Haydn Jones.
Commenting on the day the current Talyllyn Railway Preservation Society Chairman, Ian Drummond, said:
'Founders' Day is an occasion that enables us to remember all those who have given of their time and talents to keep this Railway running through the years. This year it was made particularly special by the return to service of 'Sir Haydn', which had played such an important role in the history of the preserved railway. We are delighted to see it back in service again, and we want to thank the staff at the Vale of Rheidol workshops for the work that has been done.'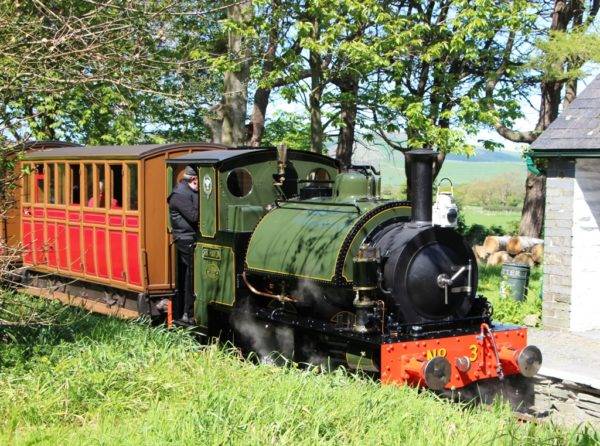 Locomotive No.3 'Sir Haydn' stands at Rhydyronen station on Monday 14 May 2018
(Photo: Ian Drummond)
---
For further information about this press release please e-mail: [email protected]