We've been nominated for two Heritage Railway Association awards! Read on to find out more.
The Heritage Railway Association is a trade association representing and promoting the interests of heritage and tourist railways. The annual Awards event is traditionally the glitziest gala event of the heritage rail calendar. Across the UK, heritage rail operators of every kind regard the HRA awards as the industry's most prestigious forms of recognition.
The HRA has now released its list of nominees for its 2021 Heritage Railway Awards. Acknowledging the significant impact COVID-19 has had on many, if not all, heritage railways, the 2021 event sees the introduction of some new categories of award are included, reflecting the extraordinary circumstances of the COVID-19 pandemic, and its impact on heritage rail.
'Internal Communications' category
In the 'Internal Communications' category, the Talyllyn Railway has been nominated in recognition of their Control Centre public on-line subscription service. In February 2020 the Talyllyn Railway introduced a new public online subscription platform, the Talyllyn Control Centre (TCC). It was designed to give 'armchair 'supporters greater access to the railway and tap into the very popular existing webcam page, which enjoyed over 365,000 unique visitors per year. With an annual fee of just £5 per anum, there are now 270 active subscribers to the TCC, and webcam usage has grown by 31% since the Railway re-opened in August.
TCC was commissioned by our General Manager, Stuart Williams, working with Peter Richards, a volunteer who runs his own software company. The TCC portal runs alongside the Railway's internal operating management system which gives continual live updates to the operating staff. The TCC system gives subscribers access to those extra webcams that the public do not see, but also gives the ability to view the live position of trains along the railway.
Stuart explained that the TCC Subscription has certainly covered all of its costs, and added a good margin back to the Railway in its first year. A number of planned improvements and additions to the Talyllyn Control Centre subscription are due, including the addition of more webcams to the system, with users able to select two to watch at once.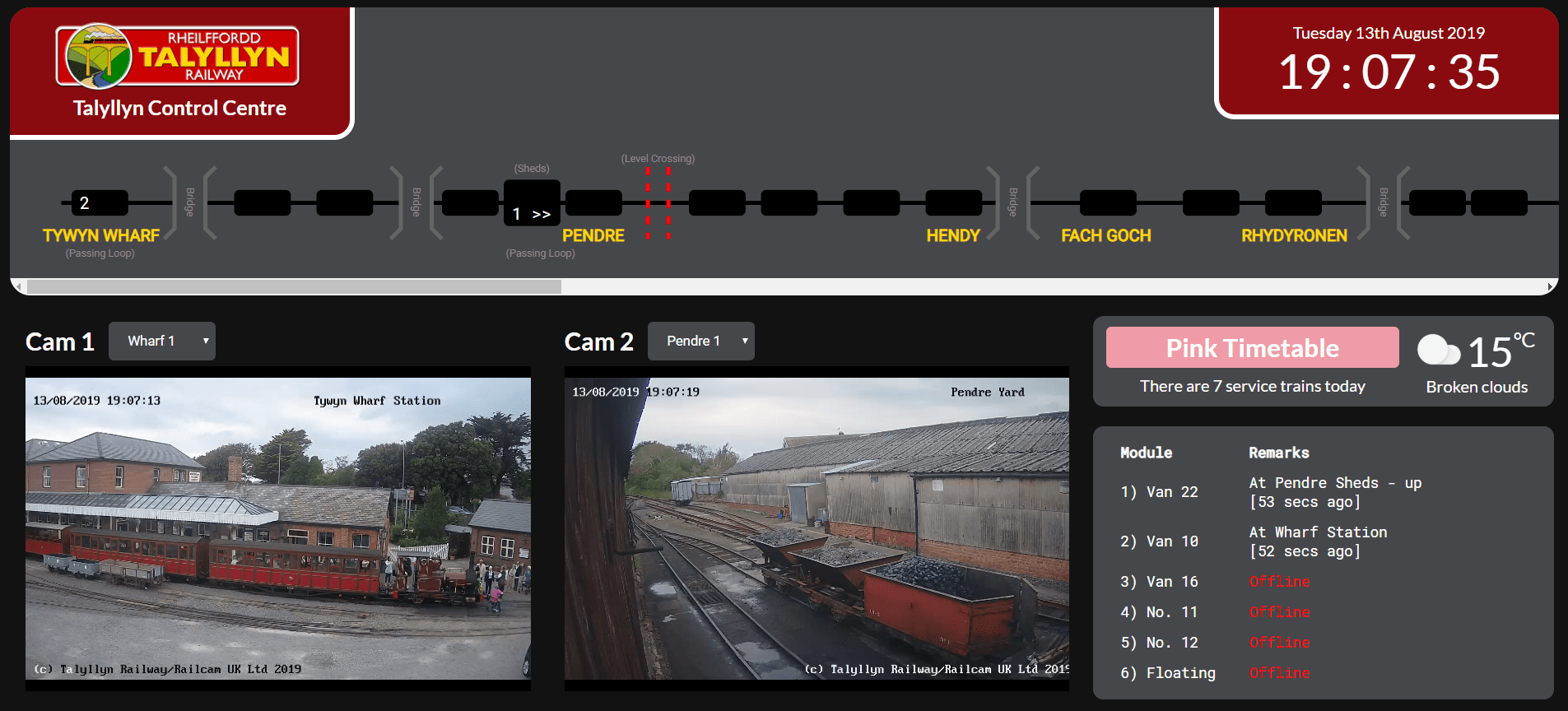 Most Innovative Fundraising Idea Category
In recognition of the ways that heritage railways have been forced to respond to the COVID-19 pandemic, the HRA have introduced a completely new award, for 'Most Innovative Fundraising Idea'. Again, there are five contenders, including the Talyllyn Railway, nominated for our 'Virtual Visit' Appeal'.