We're very pleased to announce we've won two awards at the recent Heritage Railway Association Annual Awards.
The annual Heritage Railway Association Annual Awards and Dinner, described as Heritage Rail's 'Big Night Out', took place on 11 March in Birmingham. The event celebrates success and innovation within the heritage railway community.
During the evening, awards in 12 different categories were announced, and we were very surprised and delighted to win in two categories. 
The first award was the HRA Award for Marketing and Communications. We were awarded it due to our small marketing team's brilliant efforts to engage with, and build, our digital audience via our YouTube channel, especially during the pandemic when the Talyllyn was closed. Hopefully, many of you will have seen the innovative 'Weekly Walkabouts' starring previous General Manager, Stuart Williams, and Chris Smith, from the engineering side, filmed and produced by Luke Ryan. The result of their hard work means the Talyllyn is currently the No 1 Heritage Railway on YouTube!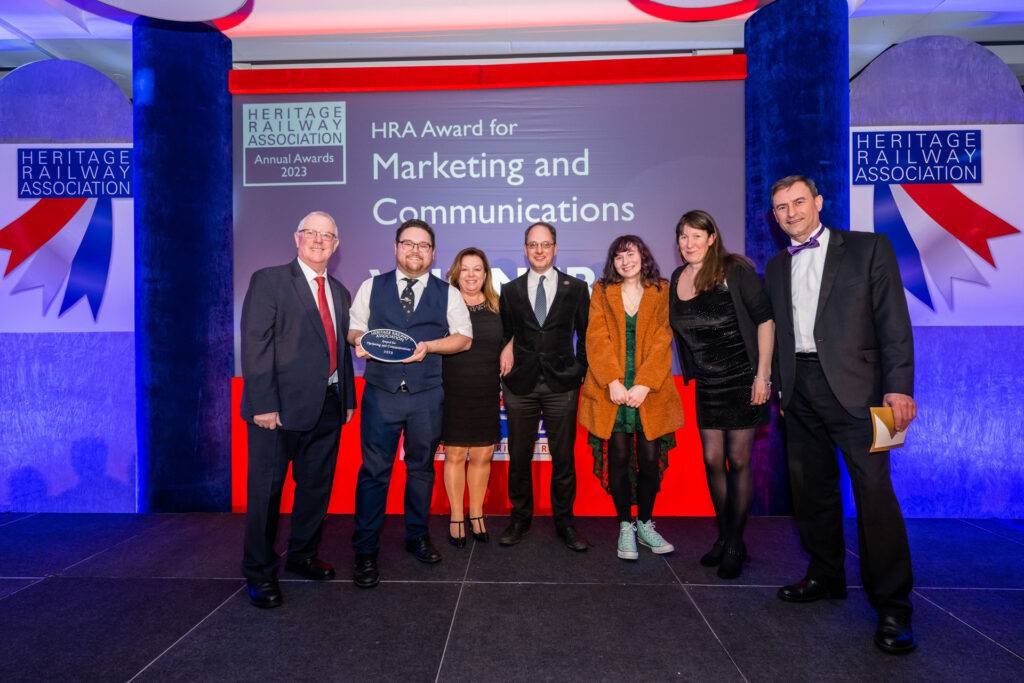 From modern innovation to heritage restoration, the second win went to the winners of the Steam Railway Magazine Award, the only award voted for by the public. Over 4000 votes for our railway were received in total. This award was made for the recreation of Tŷ Dŵr, the historic watering point located on the mineral line extension between Abergynolwyn and Nant Gwernol. The project to recreate the watering point was undertaken by the Railway's Heritage Working Group, beginning with initial surveys of the site in 2019. Tŷ Dŵr (Water House') was finally completed in 2021 as part of the TR Heritage Group's commitment to the railway's historic roots, and the connection with the new UNESCO Slate Landscape of Northwest Wales world heritage site. 
HRA Award for Marketing and Communications
Photo: Jack Boskett (Photography) Tewksbury

Lorraine Simkiss, our General Manager (Commercial) commented:

'To have our efforts recognised by the HRA is a fantastic testament to the hard work and effort that goes on behind the scenes to create unique experiences and insights into the running of a Heritage Railway.'
---
For further information about this press release please e-mail:[email protected] or phone 01654 710472.