A day for you & your guests to remember in beautiful Snowdonia!
Imagine the charm of a marriage ceremony at our Abergynolwyn station where your own private train will pull in to take you gently through the delightful countryside – a wonderfully unique experience for you and your guests to treasure forever and steam into marital life in style.
From footplate photo opportunities to our fantastic Catering Options, we would be delighted to be part of your special occasion.
From the day you book your wedding with us until the day of the ceremony itself, you will have the services of a dedicated Wedding Advisor who will be happy to discuss with you those individual requirements that will make your wedding day extra special. Civil Ceremonies at the Talyllyn Railway are held in the Annexe at Abergynolwyn station. There are facilities for drinks on the platform for you and your party both before and after the ceremony.
Arrange your wedding breakfast in the Slater Room at Tywyn Wharf station, or alternatively, hold a more traditional reception in King's Café at Tywyn Wharf station.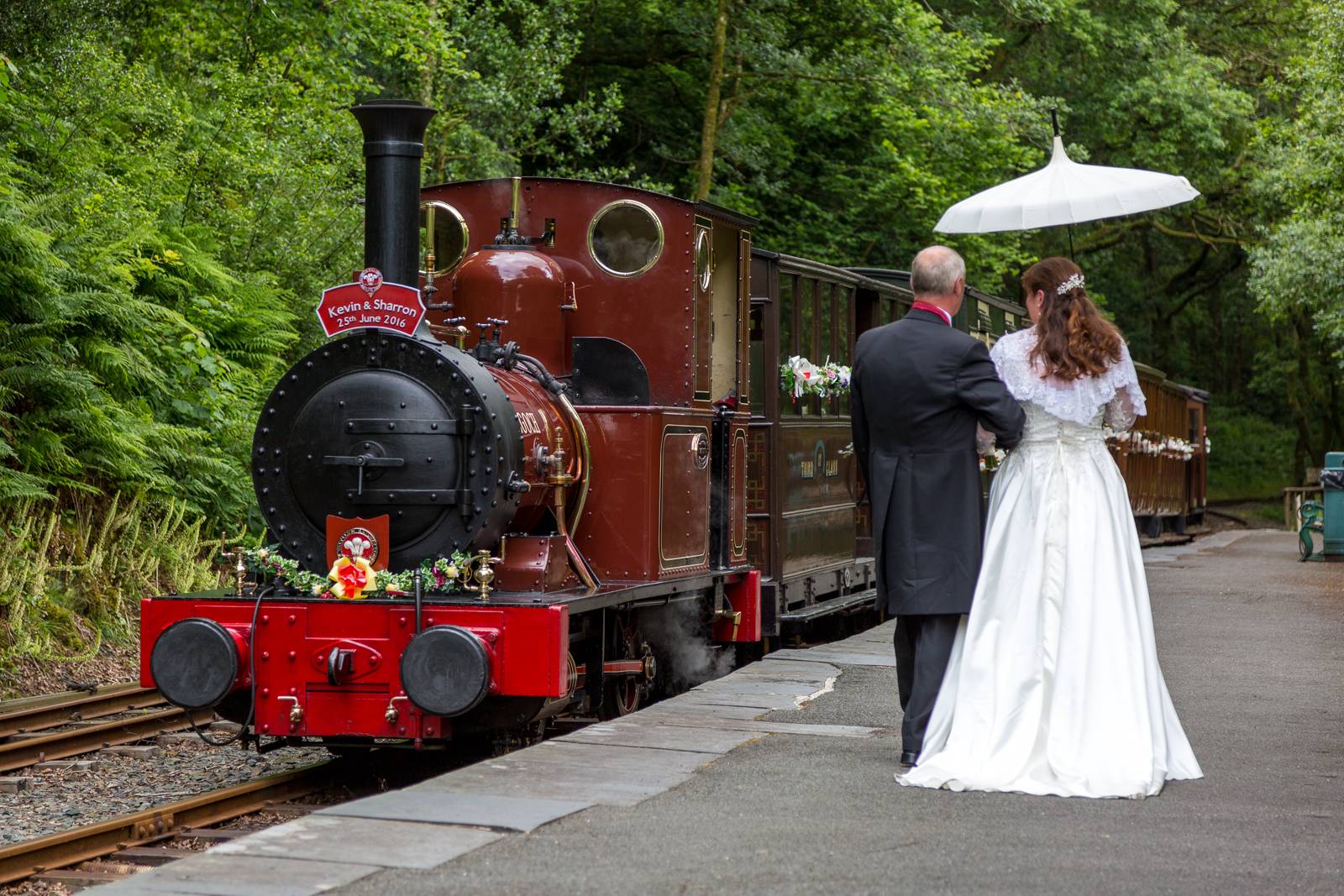 The ceremonies are performed under the authority of Superintendent Registrar Ms Nerys Williams.
All contact enquiries to book Registrars for all Civil Ceremonies :
The Call Centre / Galw Gwynedd: 01766 771000 between 08:30 a.m. – 17:30 p.m. Mondays to Fridays
The date and content of the ceremony must be agreed upon with the Registrar before we can accept a final booking.
Typically, the Wedding Party and guests (wedding groups of up to forty people) join a special train at Tywyn Wharf station for the forty-five-minute journey to Abergynolwyn.  They are met there by the Registrar who will spend a few minutes talking to the Bride and Groom before the ceremony.
After the ceremony, there is time for photographs with the train and light refreshments before you return to Tywyn in your special train, the total time taken is about three hours. The train carries an individual headboard which is yours to keep and you can choose the locomotive and carriages from the stock which is operational at the time.
Naturally, we would be delighted to show you around so that you will have a clearer idea of the facilities that we can offer.  If you wish to visit the Railway, please Contact Us to arrange an appointment.