September 23
@
8:00 am
–
September 24
@
5:00 pm
New for 2023!
TIMETABLE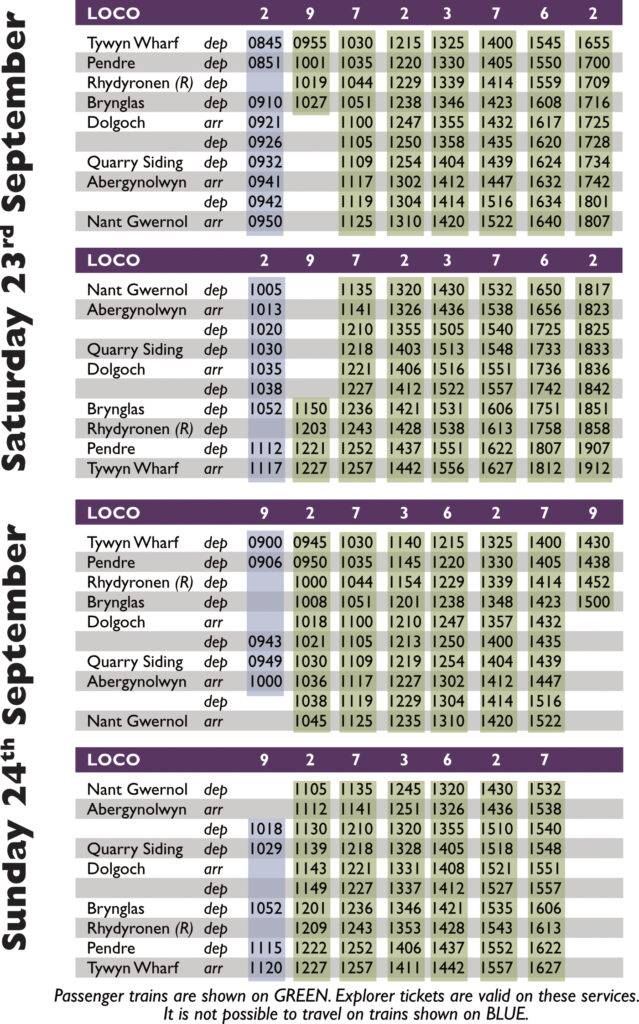 Click here to download timetable PDF
A variety of special trains will be run with a mix of carriages and wagons representing different periods in the history of the Talyllyn Railway and also the history of where locomotives now based on the Talyllyn have come from.
Over the weekend a rake of heritage waggons will be taken up the valley by No.2 "Dolgoch", No.9 "Alf" will be re-creating the Market Day trains put on for the locals during the 1960s and on Sunday will be seen with a modern-day TR Engineering train, No.7 "Tom Rolt" will be representing the 1990s hauling some of our oddball carriages, No.3 "Sir Haydn" will be hauling a Corris special with the saloon coach and No.6 "Douglas" will Rock 'n' Roll up the valley with a train of open coaches with The Calshot Express, harking back to it's RAF days carrying troops across the base in open sided coaches.
No.2 "Dolgoch" will also be seen multiple times over the weekend hauling the original 1860s coaching stock built for the TR at it's inception, with at least one train representing the late 1940s period with no brakevan! During that period Van No.5 was out of service and the old company, being a little looser with the rules, ran the service with no brake van. We can't do that nowadays – so between the last coach and Van 5 will be some heritage waggons, as to give the impression of a brake van-less train!
On Saturday afternoon Anthony Coulls, Senior Curator of the National Railway Museum and Talyllyn Railway Volunteer, will be giving a talk on the subject of Fletcher Jennings locomotives, of which No.1 "Talyllyn" and No.2 "Dolgoch" are, and in the evening Dr. David Gwyn will be giving a talk on the subject of Bryneglwys Slate Quarry and Abergynolwyn Village – there is limited space for these talks, so book now to avoid disappointment!
Visiting slate heritage locomotive – Corris Railway No 9 'Aberllefeni'. Built by Clayton in 1974, this small battery electric locomotive was used at Aberllefeni slate quarry and will be seen shunting at Tywyn Wharf station over the weekend.
Tywyn Wharf station café and bar open late on the Saturday evening to enjoy the atmosphere of the event even longer