We do like to enjoy ourselves here at the Talyllyn Railway.
We're very happy No 3 Sir Haydn is back in service, and that No 6 Douglas is 100 this year. No 4 Edward Thomas is back on the rails and Baguley diesel No 11 Trecwn is now ready for action. So for the first time in many years, all of our available steam and diesel engines were in working order. We thought it would be a wonderful idea to have a day when everything moveable was operating on the railway before No 1 Talyllyn goes out of service for her 10 yearly overhaul.
And then we thought it would be even better to share our 'Anything Goes' gala with the world, so our good friend Tim Dunn agreed to host a live streaming event – #TalyllynLIVE – throughout the day. Sir Peter Hendy, chairman of Network Rail, agreed to come along and name No 11 Trecwn as part of the festivities.
Then to top all of this off, we had a beer, cider and gin festival at Wharf on the Friday and Saturday.
So how did it go?
Friday evening
We held a packed 'Ask the Panel' event at Wharf. Panellists included current TRPS Chairman Ian Drummond; Stuart Williams, our General Manager; Engineering Manager Chris Smith; Chairman of the Board David Ventry; Sir Peter Hendy, and Tim Dunn (once we'd retrieved him from the bar). Some very interesting questions were asked, including how to improve carriage maintenance and encouraging future generations of volunteers.
During the evening, No 4 Edward Thomas and train appeared after a successful test run up the line.
Saturday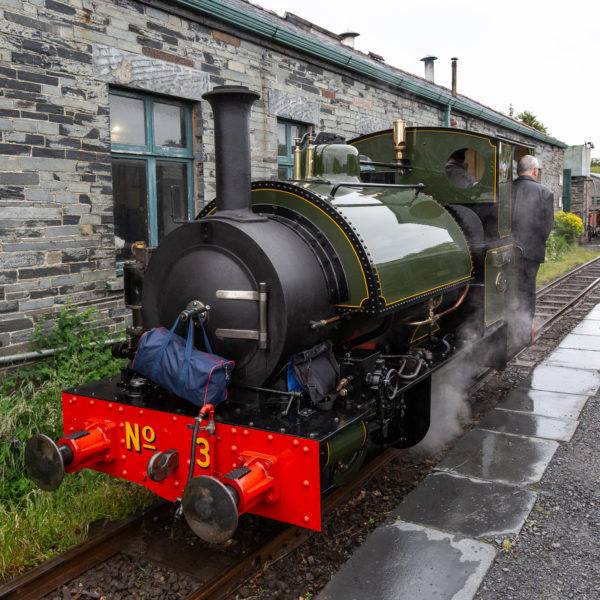 Early start as #TalyllynLIVE began at 08:30 broadcasting live from Pendre shed. Sir Peter was fetched from his B&B by a special taxi service – No 3 Sir Haydn. The running order was as follows:
09:30 – Sir Peter Hendy names No 11 Trecwn
10:00 – First ever double-headed diesel Talyllyn passenger train with No 11 Trecwn and No 12 St Cadfan
10:30 – No 3 Sir Haydn and No 4 Edward Thomas double-header with live cab ride
11:40 – No 6 Douglas and No 7 Tom Rolt double-header
12:45 – No 1 Talyllyn and No 2 Dolgoch double-heading the Vintage Train with live cab ride
14:00 – No 3 Sir Haydn and No 4 Edward Thomas double-header
15:10 – No 6 Douglas and No 7 Tom Rolt double-header
No 9 Alf was also out and about with a goods train.
Later in the day Tim and our Engineering Manager Chris enjoyed a cup of tea and a ride down the valley on a bench bolted onto a flat wagon, hauled by diesel No 5 Midlander. It had, luckily, stopped raining by then.
17.30 – 'Meet the engines & crews' hosted by Tim Dunn at Wharf station. By this time the sun has started to come out and plenty of people were enjoying the beer festival.
18.00 – Cavalcade Finale – all our six steam engines coupled together to go back to Pendre, followed by the diesel cavalcade. It was a wonderful sight to hear and see them set off up the cutting.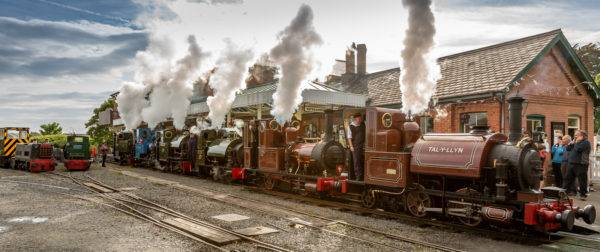 The #TalyllynLIVE films and clips are available on our Facebook page. There are plenty more photos and videos of the day shared on our Twitter page or search for #TalyllynLIVE.
While these events are amazing fun to be part of, they don't happen without an immense amount of background work from a lot of people.
Many thanks to all who organised the gala, to everyone who came to visit us and to everyone who took part in this fantastic event. Thanks to Tim Dunn for his wonderful presenting skills, the technical crews for making it all work and our social media team for being on top form throughout a very long day. Thank you to Sir Peter Hendy for coming all the way to Tywyn to name No 11 Trecwn. And massive thanks to the Talyllyn Railway staff and volunteers, who made sure all our engines were working in time for the big day and ensured our hundreds of visitors were fed and watered over the weekend.
Photos by Barbara Fuller and Karen Willans