We've been awarded a 'Red Wheel' Plaque by the National Transport Trust!
The Talyllyn Railway has been awarded a prestigious 'Red Wheel' plaque from the National Transport Trust. The accompanying photograph shows the unveiling ceremony at Tywyn Wharf Station, attended by representatives of the Talyllyn Railway Preservation Society, together with representatives of Gwynedd Council, Tywyn Town Council, the Welsh Senedd and the National Transport Trust.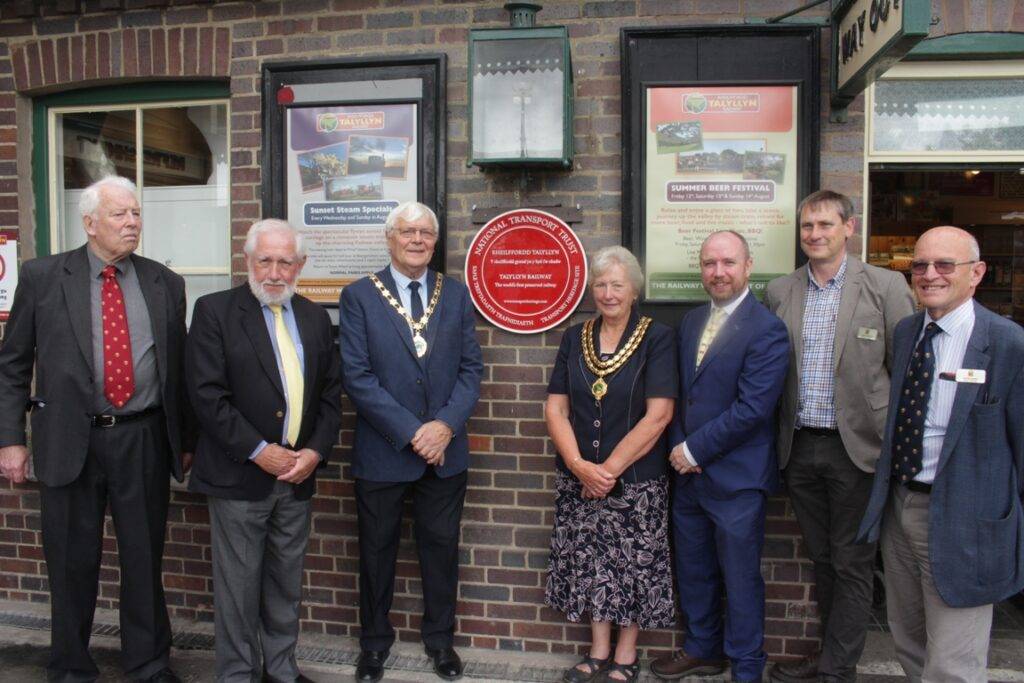 The Red Wheel Scheme was created by the National Transport Trust to recognise and commemorate the most significant sites of historical importance to transport heritage in the United Kingdom.
The Transport Heritage programme commemorates Britain's rich and globally important legacy in the development of transport. The aim is to present a comprehensive overview for each site, in a way that will attract a new and wider audience.
The most significant of these locations are marked by erecting a National Transport Trust Heritage Plaque or "Red Wheel" on the physical site. To date they have placed over 120 Red Wheels around the UK.
Ours is in celebration of Tom Rolt (L. T. C. Rolt) – one of the pioneers of the railway preservation movement. He also played a significant role in restoring Britain's inland waterways, and was a vintage car enthusiast.
In the summer of 1950, he wrote a letter to the Birmingham Post newspaper suggesting that a rescue of the Talyllyn be undertaken He received sufficient positive response for a meeting of interested enthusiasts on 11 October 1950 in Birmingham. where Rolt proposed the formation of a committee to look into the acquisition of the railway. The committee met for the first time on 23 October and immediately entered into negotiation with Haydn Jones' executors, the owners of the railway.
The transfer took place on 8 February 1951, at which point the newly formed Talyllyn Railway Preservation Society effectively took control of the railway. The railway re-opened under the control of the Society for the first time on the Whit Monday bank holiday, 14 May 1951, with trains running between Wharf and Rhydyronen stations. Regular trains began to run on 4 June and continued through the summer.
---
For further information about this press release please e-mail: [email protected] or phone 01654 710472.