On Tuesday 22 March 2022 No 4 'Edward Thomas' became the first locomotive to take water at Tŷ Dŵr between Abergynolwyn and Nant Gwernol in seventy years.
Fittingly, it was also the last known locomotive to take water there back in 1952, as the original watering point was demolished in 1954. However, over the past few years a team of Talyllyn volunteers have been working to recreate the original watering point and the filling of No.4 saw the culmination of their dreams.
When the Railway opened for slate traffic in 1865 Tŷ Dŵr was the site of the original locomotive shed on what was the mineral only portion of the line above Abergynolwyn. Water was diverted from a nearby waterfall via a series of wooden launders to service the locomotive at the shed. When the shed and siding were removed in the 1890s, an additional slate column was built on the side of the main line and an extra length of launder was installed.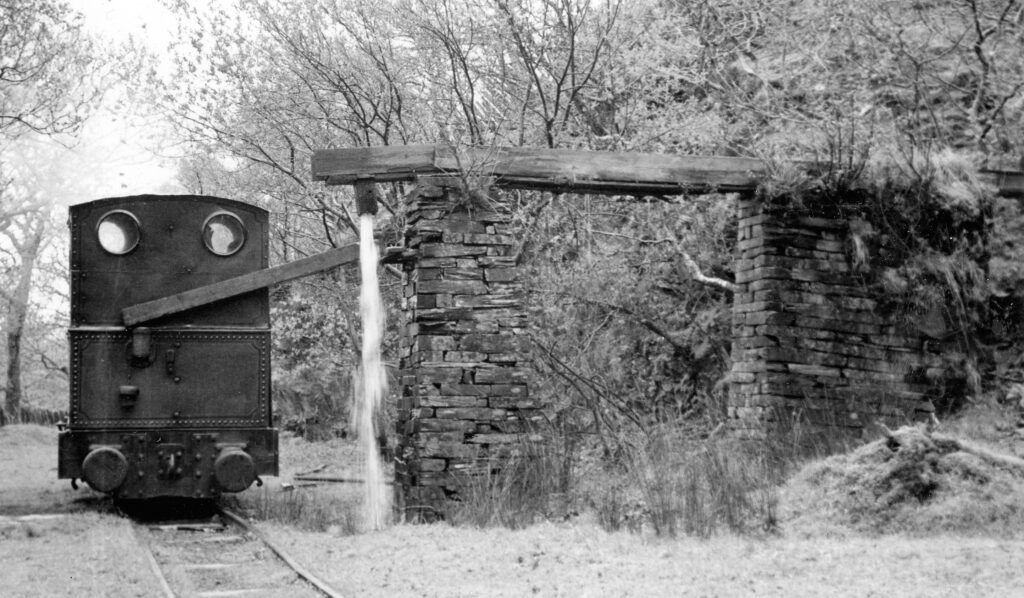 The watering point survived into the preservation era but fell out of use. Eventually the columns were demolished and the slate used to repair a landslip at Dolgoch. With the extension of passenger services to Nant Gwernol in 1976, significant changes took place at the site. This included the original track bed being lowered and as a result there was little indication of what was once there.
The project to recreate the watering point was undertaken under the auspices of the Railway's Heritage Working Group. Initial work on excavating the remains of the original slate columns started in 2019. This revealed both the exact location and extent of the original watering point. In turn this enabled plans to be drawn up for the recreation.
At this point the pandemic intervened and it was not possible for contractors to start work building the new slate columns until late in 2021. The replacement wooden launders were constructed by a group of volunteers at Tywyn Pendre and brought up to site and erected in one afternoon. However, the final section between the troughs and the stream has yet to be put in place. Therefore for the inauguration of the recreation a length of guttering was used to divert water from the stream into the launders.
Ian Drummond, Chair of the Railway's Heritage Working Group commented:
'The recreation of the watering point at Tŷ Dŵr has been a long held dream for many people involved in the Railway. We are grateful to all those who have helped make this possible; the volunteers, staff and contractors who carried out the work as well as those who contributed towards the appeal fund. We are particularly grateful to PTG Tours for their sponsorship of the project.'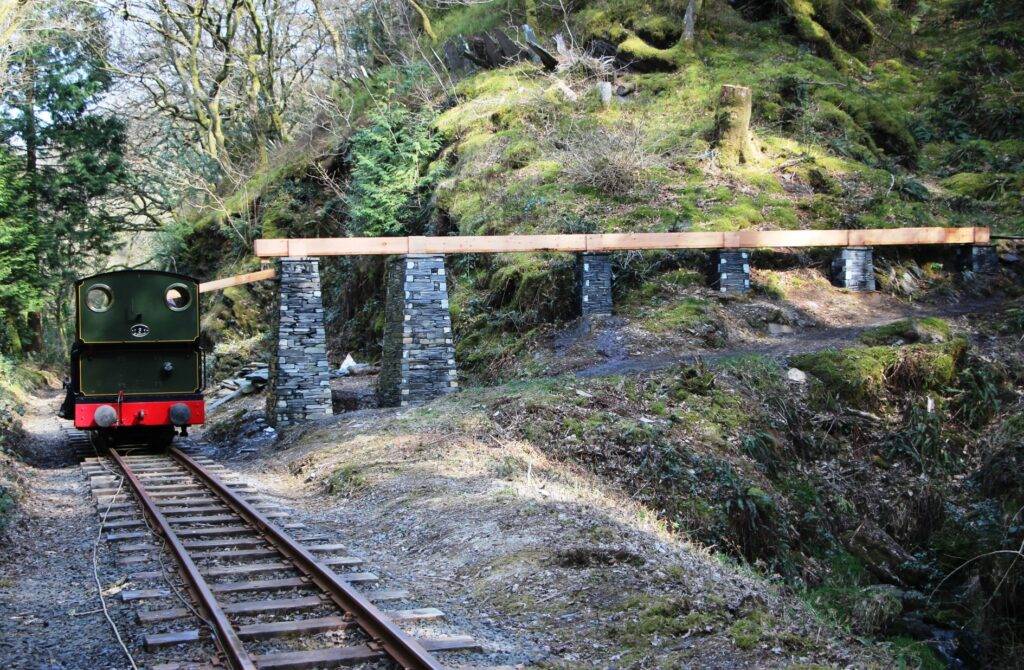 ---
For further information about this press release please e-mail: [email protected].uk or phone 01654 710472.