There was a special surprise at the 'Anything Goes' gala on the Talyllyn Railway on Saturday 15 June 2019 with the reappearance of the railway's original platelayer's trolley which had been out of service for over ten years.
The trolley was originally built in 1954 by then volunteer later the Railway's Chief Engineer, John Bate, using the engine from an Austin 7.
In 1960 it was fitted with a canopy, which led to it being affectionately named 'Toby'. It has had many uses over the years including being used as a fire tender following trains up the valley during periods of drought. Sadly it was badly damaged in a shunting incident in 2008 and had lain out of use ever since.
However, an appeal for help from the Railway's Engineering Manager, Chris Smith, led to a group of volunteers taking on the job of rebuilding the trolley away from the Railway, and it has now come back in pristine condition. There to greet its return was John Bate himself, who is still an active volunteer and indeed he helped refit the canopy on the vehicle after its journey back to Tywyn. John also took the controls for a journey between Tywyn Wharf and Pendre stations.
Talyllyn Railway Company Chairman, David Ventry, commented:
'In 1954 John Bate built the original trolley at his parent's home in Reigate for the use of permanent way gangs. Therefore, it is fitting that this restoration has taken place in not dissimilar circumstances. We are very grateful to those volunteers who have undertaken the work to rebuild this part of the Railway's heritage. It also made it a very special occasion that John Bate was on hand to greet its return to the line, and we look forward to it being employed for various tasks for many years to come'.
The rebuild team was led by Graeme Ford of Graybar Engineering, who supply the rail industry with point heating and signal distribution systems among other products. Graeme has memories of driving the trolley on his volunteering visits to the Railway which started in the 1960s.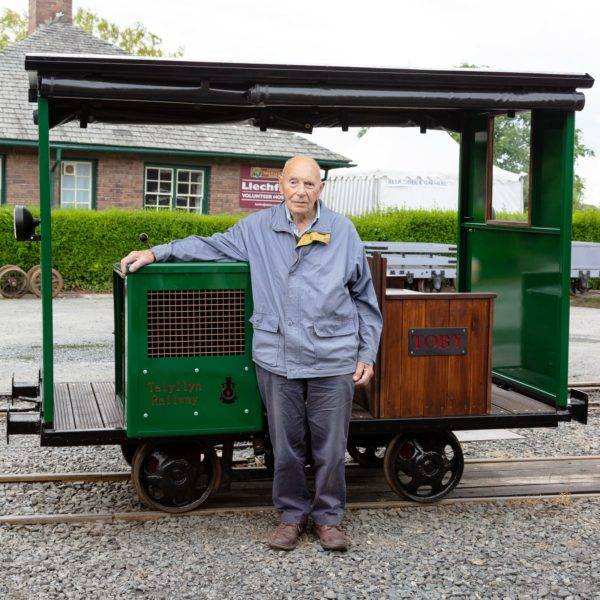 ---
For further information about this press release please e-mail: [email protected] or phone 01654 710472.