The Talyllyn Railway has received a prestigious and much coveted Regional Business Award for its contribution to Tourism in North Wales.
At a ceremony held at Bangor University Management Centre on Thursday May 23rd, the Talyllyn Railway was the recipient of one of five awards sponsored and presented by North Wales Tourism as part of their annual 'Gwynedd Business Week' for 2019, an event now in its fourteenth year.
The Railway was awarded the accolade of 'Tourism Business of the Year,' in recognition of the contribution made by the Talyllyn Railway to the tourism industry in North Wales, which brings in over £3 billion to the economy of the region. The citation spoke of the development of the Railway from its beginnings in 1951 as the World's First Preserved Railway to the present time, in increasing its passenger numbers and overall revenue, "making it one of the main attractions in this area; working with the local community and schools; working with local environmental groups showing commitment to reducing carbon footprint and working with sister organisations with their involvement with the 'Great Little Trains of Wales."
Making the presentation to the Railway on behalf of North Wales Tourism, Head of Operations Eirlys Jones said that these factors had all contributed to the wider regional agenda as well as to local issues, thus bringing about recognition to the work of the Talyllyn Railway in the giving of this award.
Accepting the award on behalf of the Railway, General Manager, Stuart Williams responded, saying:
"I am delighted to have been able to attend the Award ceremony, and accept the award on behalf of the volunteers and staff at the Railway. The award is a fitting testament to the efforts that have been put in over the past year to heighten the profile of the railway"
Ian Drummond, Chairman of the Talyllyn Railway Preservation Society added that the Society members would be delighted with the award. It recognised the substantial contribution made by the staff and, the many volunteers that enable the railway to continue making such an effective contribution to Tourism in Gwynedd.
Tourism is very much a growth industry in Wales with three National Parks, five 'Areas of Outstanding Natural Beauty' and of course the specialist interests including the eleven famous 'Great Little Trains of Wales' of which the Talyllyn Railway is one. Public Service Industries together with Tourism are now the two main sources of employment in Wales and the Talyllyn Railway is proud to have been recognised as making such a significant contribution to this important aspect of life in modern Wales.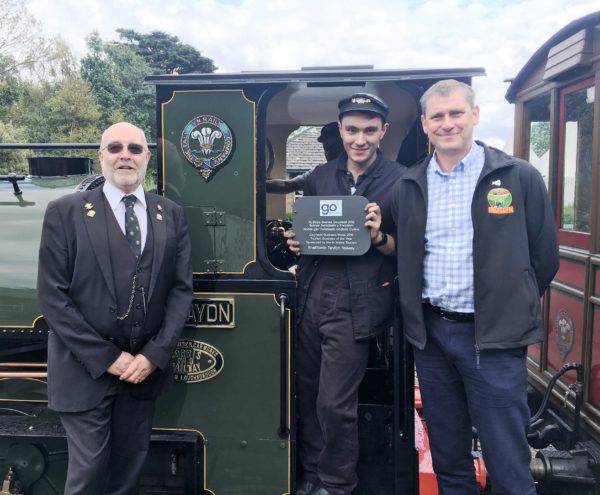 ---
For further information about this press release please e-mail: [email protected] or phone 01654 710472.