There is plenty to see and do on & around the railway, why not take a look at our things to do or our available experiences?
Local Attractions
The valleys of the Fathew and Dysynni along with the coastal town of Tywyn sit amongst a host of local attractions, a rich heritage from the 9th Century onwards and some of Snowdonia's most stunning vistas.
Tywyn
Tywyn Beach Tywyn has a huge expanse of sandy beach which is popular with surfers as it picks up the westerly Atlantic swells.  The waves tend to be best just off high tide and towards the southern end of the beach.  The Wales Coastal Path passes through Tywyn with a recently opened stretch crossing the Broadwater via the new Bailey Bridge.  There are some good walks taking in the views of Cardigan Bay along with Snowdonia and the Cambrian Mountains to the south.  If you keep your eyes peeled you may even be lucky enough to spot some dolphins. 
Tywyn Leisure Park is A great venue with a huge range of games and activities, including an 18 hole putting course, 15 hole crazy golf, crown green bowls, tennis (2 x hard courts + 4 x grass courts), skittles, table tennis, pool, shuffleboard and more. Tywyn Leisure Centre Open 7 days a week and with the following facilities:  Swimming pool (25metre x 11metre), 4 badminton courts, sport's hall, 2 squash courts, steam room, sauna, fitness suite, outside tennis courts (floodlit), full-sized floodlit outdoor synthetic pitch.  Click here to find out more. Magic Lantern Cinema Visit the Magic Lantern Cinema in Tywyn – the UK's best Independent Cinema! Watch the latest films on Tywyn Cinema's brand-spanking-new 3D projector, their top-of-the-range 7.1 surround sound and with a cracking bar – you're certain to have a great time! Doors open 30 mins before each screening – subtitles are available on Mondays.  Click here to find out more. St Cadfan's Church The church is noted for its Romanesque architecture and for housing the Cadfan Stone, a stone cross dating from the ninth century or earlier which is inscribed with the oldest known written Welsh.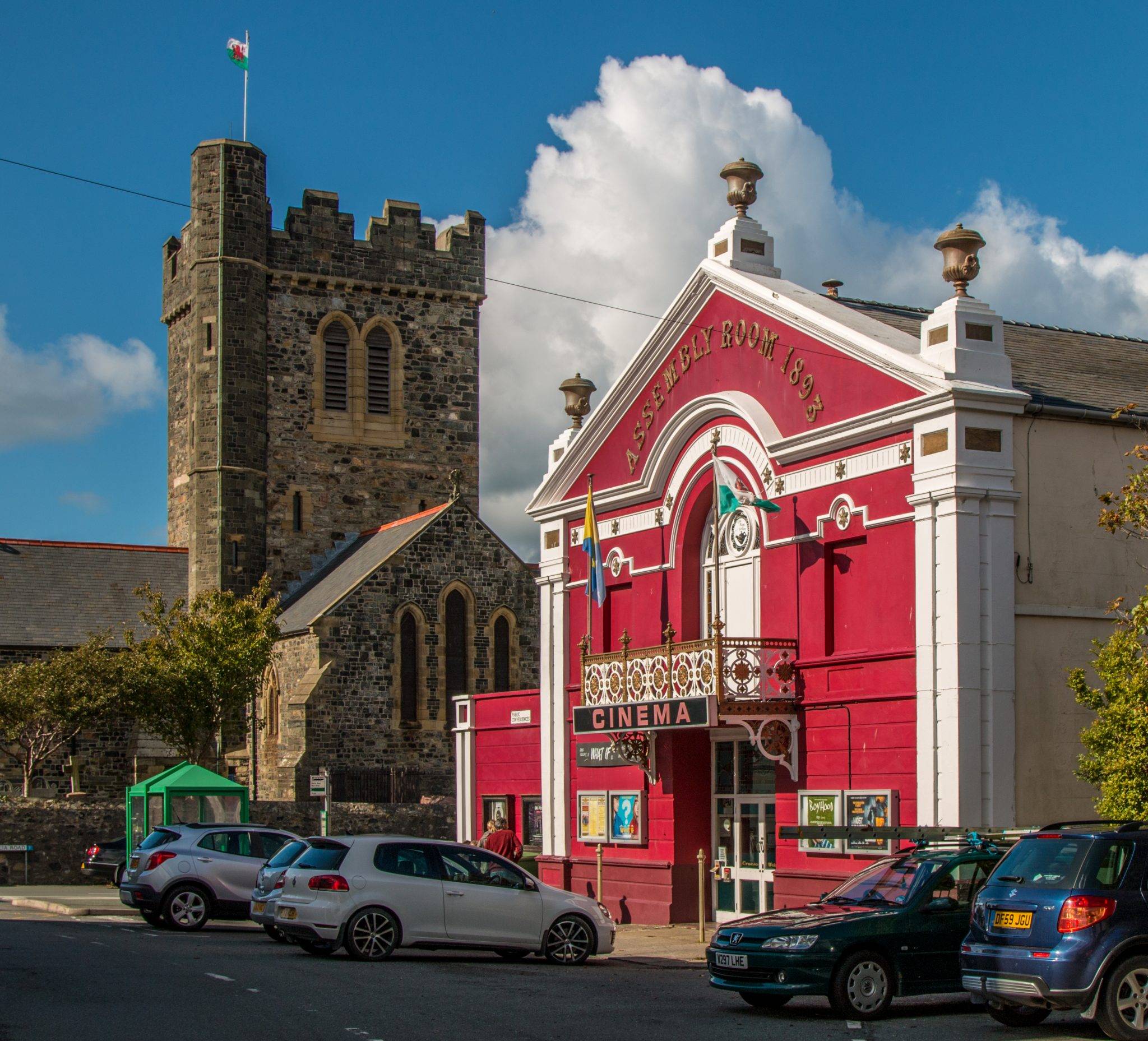 Pendre
Holgates Honey Ice Cream Shop Holgates Honey Ice Cream Shop is the only place where you can buy their famous Honey Ice Cream.  Freshly made each day, this delicious ice cream is made to a secret recipe using real honey.  At the Shop, you'll find the Welsh Pantry and Gwynedd Confectionery ranges of traditional food gifts – perfect for giving or as a treat. On the green outside the shop, you will find their award-winning sculptures. 
The perfect place to sit, look out across the hills to Cader Idris – one of the highest mountains in Wales – and enjoy a Honey Ice Cream.  Just remember to keep an eye out for the Honey Bear! Tywyn Monday Market Held every Monday from Easter until October Half-term the Monday Market allows you to grab bargains from the many stalls present. Why not use the train to Pendre station to carry your shopping? Wurlitzer Organ Built in Tonawanda, New York State in the United States of America, the 3-manual 9-rank Wurlitzer Organ was originally installed in the Granada Cinema, Woolwich in South East London in 1937 where it was officially opened by no less a personality than Reginald Dixon, best known to everyone as 'Mr Blackpool'. It was moved to Neuadd Pendre in Tywyn and restored in 1996 and is used for concerts once a month throughout the year.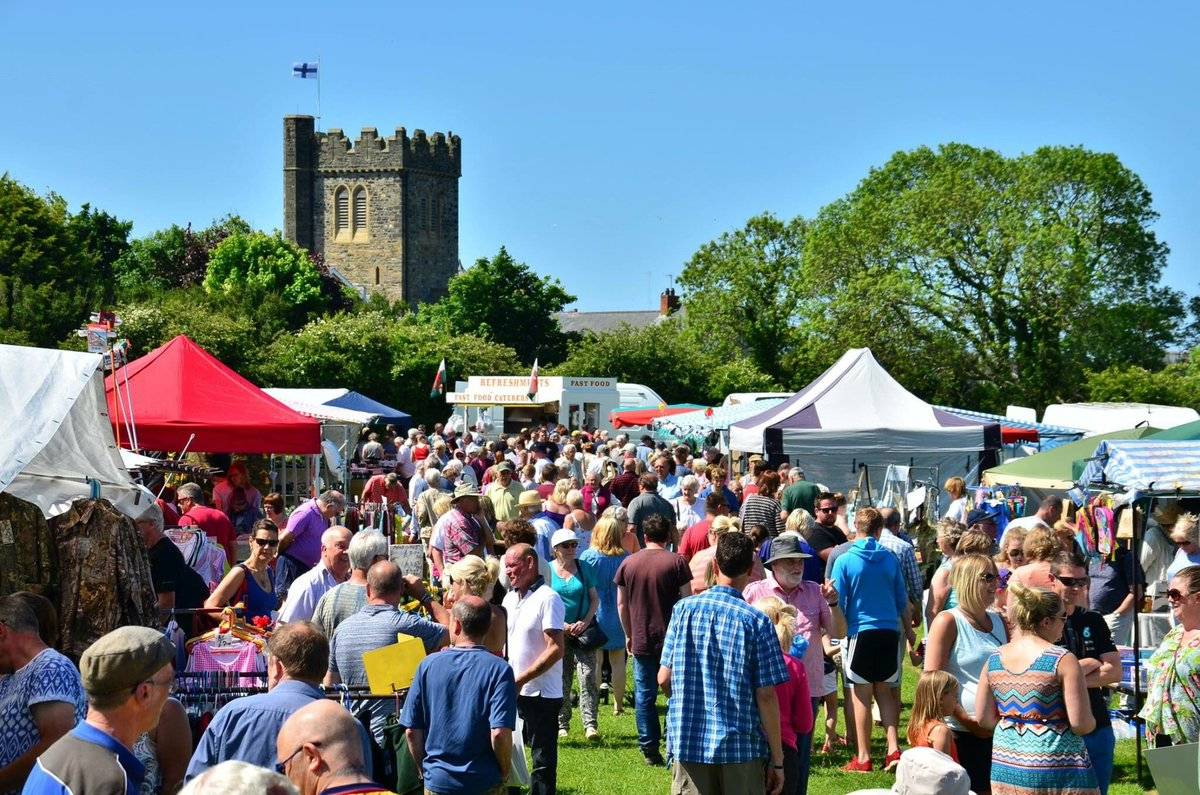 Dolgoch
Dolgoch Falls Dolgoch Falls, three sets of magnificent waterfalls in a beautiful wooded ravine, are served by Dolgoch station and many passengers alight here before rejoining the train later in the day (train service permitting). The Dolgoch estate was presented to the people of Tywyn and access is free (with donation boxes). There are various walks around the falls including a circular tour taking in all three levels of the falls. The falls are attractive at any time of year offering restful serenity beneath the trees. If the weather is wet, then the falls are even more stunning as the water thunders down. Please note that for all but the lower falls the paths are steep with a lot of steps. Please take care.
Bird Rock Craig yr Aderyn is renowned for its bird population and is believed to support the only regular inland breeding colony of Cormorant in Wales. Over 60 pairs of Cormorant nest on the crags, which represents around 1% of Britain's breeding population. However, it is the Chough, an increasingly rare bird in Britain, which elevates Craig yr Aderyn to a site of international importance and affirms its designation as a Special Protection Area. As well as being an important breeding location, it is also a roosting site for chough throughout the year. Non-breeders roost during the summer and traditionally high numbers are observed outside the breeding season. Birds using this site largely originate from Ceredigion and Montgomeryshire. A variety of other breeding bird species frequent the rock face, including Barn Owl, Redstart, Peregrine Falcon, Wheatear, Linnet and Little Owl.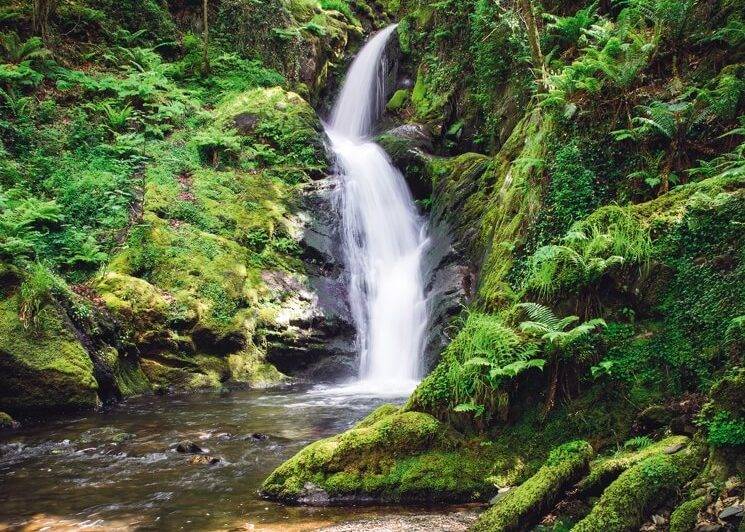 Abergynolwyn
Photographic Archive – Y Ganolfan, Abergynolwyn (Village Community Centre) – a fascinating collection of photographs can be viewed in the main hall of the community centre in Abergynolwyn. The collection shows the history of Abergynolwyn as a slate quarrying community.
Castell y Bere Castell y Bere is the largest and most elaborate of the native Welsh castles in north Wales and was built by Llywelyn the Great, Prince of Gwynedd, in the early 13th century. Typically, the Welsh princes had not constructed castles preferring to build undefended palaces called or courts. This tradition changed as the Normans advanced into Wales in the 11th century taking lands in the north and establishing a band of occupied territory in the south called the Welsh Marches. The castle was intended to project his authority over the local populace and to defend the lands between the Dyfi and Mawddach estuaries and the mountain road over Cader Idris to Dolgellau. Click here to find out more. St Michael's Church, Llanfihangel y PennantThis attractive little church stands near the River Dysynni, just east of the ruins of Castell-y-Bere. The church has several interesting historic features. The font, a scalloped bowl atop a cylindrical column, is 12th century and is thought to have come from the castle chapel.There has been a church on this site since the 13th century, suggesting that the current building was erected in conjunction with Castell-y-Bere. Near the vestry is a small window, slightly offset. This is known as the Leper Window, and tradition says that it was made to allow inmates of a local leper colony to view services without actually entering the church. In the vestry is a fascinating fabric model of the Dysynni valley, crafted by local people. The model is fully 14 feet long and is housed in a glass case. Also in the vestry, which was added to the church around 1878, is a display on the life of Llanfihangel-y-pennant's most famous native, Mary Jones. Mary Jones's parents are buried in the churchyard, but her grave is at nearby Bryncrug. A short walk from the church brings you to Tyn-y-ddol, where you can find a monument, erected in the ruined shell of the Jones house. The location of the church is utterly superb, and the setting, combined with the historical connections, makes St Michael's a fascinating place to visit.
Mary Jones's Memorial, Llanfihangel y Pennant Mary Jones was from a poor family, the daughter of a weaver, who lived at Llanfihangel-y-pennant, at the foot of Cader Idris. She was born in December 1784.  Her parents were devout Calvinistic Methodists, and she herself professed the Christian faith at eight years of age.  Having learned to read in the circulating schools organised by Thomas Charles, it became her burning desire to possess a Bible of her own.  The nearest copy was at a farm two miles distant from her little cottage, and there was no copy on sale nearer than Bala – 26 miles away; and it was not certain that a copy could be obtained there.  Welsh Bibles were scarce in those days.  Having saved for six years until she had enough money to pay for a copy, she started one morning in 1800 for Bala, and walked the 26 miles over mountainous terrain, barefoot, as usual, to obtain a copy from Rev. Thomas Charles, the only individual with Bibles for sale in the area. It is said that Mary Jones's visit to Thomas Charles in 1800 made such an impression on him that he had no rest until he had found a way of ensuring that the common people of Wales had access to a regular supply of cheap Bibles. On the 7th December 1802, Thomas Charles attended a meeting of the Religious Tract Society held in a warehouse on Swan Wharf near London Bridge.  Thomas relayed Mary Jones's story and this had such an electrifying effect on the committee that they founded a society to publish and distribute Bibles, not only for Wales but also for the whole world: the British and Foreign Bible Society.
"If for Wales, why not for England, why not for the whole world?"
Mary Jones inspired the creation of a society that has distributed hundreds of millions of Bibles and spawned many more Bible societies worldwide. Today the Bible is printed in over 2,230 languages. Two copies of Mary Jones' Bible still exist.  One is held in the archives of the British and Foreign Bible Society in Cambridge and the other is held at the National Library of Wales in Aberystwyth.  The copy held by the Bible Society is Mary's personal copy.  The third copy of the Bible has, unfortunately, now been lost. The story of how Mary Jones obtained her Bible from Thomas Charles can best be told in Mary's own words.  A few months before Mary's death in 1864 she was interviewed by Lizzie Rowlands.  This is Mary's story in her own words:
"One stormy Monday morning I was walking to a farmhouse about two miles from my home, a gentleman riding on a white horse and wearing a cloth cape came to meet me and asked me where I was going through such wind and rain. I said I was going to a farmhouse where there was a Bible, that there wasn't one nearer my home, and that the mistress of the farm said that I could see the Bible, which she kept on a table in the parlour so long as I took my clogs off. I told him that I was saving up every halfpenny this long time to get a Bible but that I did not know where to get one. The gentleman was 'Charles of Bala', he told me to come to Bala at a certain time, that he was expecting some from London and that I should have one from him. When the time came my mother put the money and a little bread and cheese in one end of the 'wallet' and my clogs in the other, and I set off for Bala on a fine morning, resting where there was a stream of clear water, to eat the bread and cheese. I came to Bala trembling and knocked at the door of Mr Charles' house. I asked for Mr Charles and was told that he was in his study at the back of the house. I was allowed to go to him and he told me that the Bibles had not arrived. I started to cry because I did not know where to stay. He sent me to stay with an old servant of his who had a house at the bottom of his garden, until the Bibles came. When they came Mr Charles gave me three for the price of one. I set off home with my precious burden, I ran a great part of the way, I was so glad of my Bible".
Mary married Thomas Jones in 1813 and moved to Cwrt.  Mary and Thomas had six children: Lewis, Mary, Jacob, John, Ebenezer and Mary.  In 1820 the family moved to Bryncrug. Mary died in 1864 and is buried in the graveyard of the Bethlehem Chapel in Bryncrug.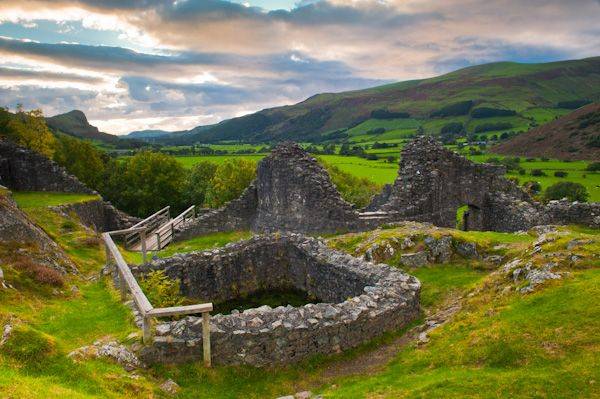 Nant Gwernol
Dyfi Forest Nant Gwernol lies on the edge of Abergynolwyn village. It takes its name from a rocky river gorge with cascading waterfalls. Rugged peaks loom above the forested hillsides that are dotted with atmospheric ruins and slate spoil heaps. There are waymarked trails that follow the riverside and explore the remains of Bryn Eglwys Slate Quarry.  Leaflets are available from our stations.  Click here to find out more about the Nant Gwernol Trails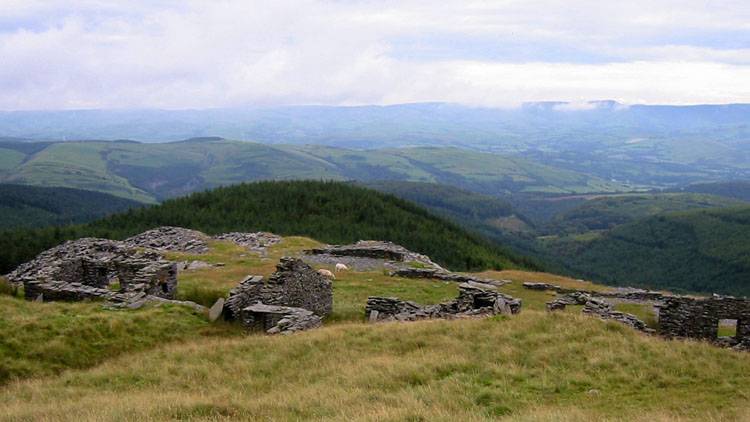 Cader Idris
Cader (or Cadair) Idris is one of Wales's most iconic mountains.  It is about 893m in height, standing at the southern gate of Snowdonia, overlooking Dolgellau.  The three peaks are Pen y Gadair (Head of the Chair), Cyfrwy (the Saddle) and Mynydd Moel (the Bare Mountain).  In the cwm half way down the mountain is Llyn Cau, supposedly a bottomless lake. There are numerous stories and legends associated with this mountain and Idris, the giant who's seat it supposedly is.  A few of the nearby lakes – such as Llyn Mwyngul (commonly known as Tal-y-llyn lake) are reputed to be bottomless, and those who venture up the mountain at night should take heed before sleeping on its slopes.  It is said that those who sleep on the mountain will awaken either as a madman, a poet or indeed never wake again.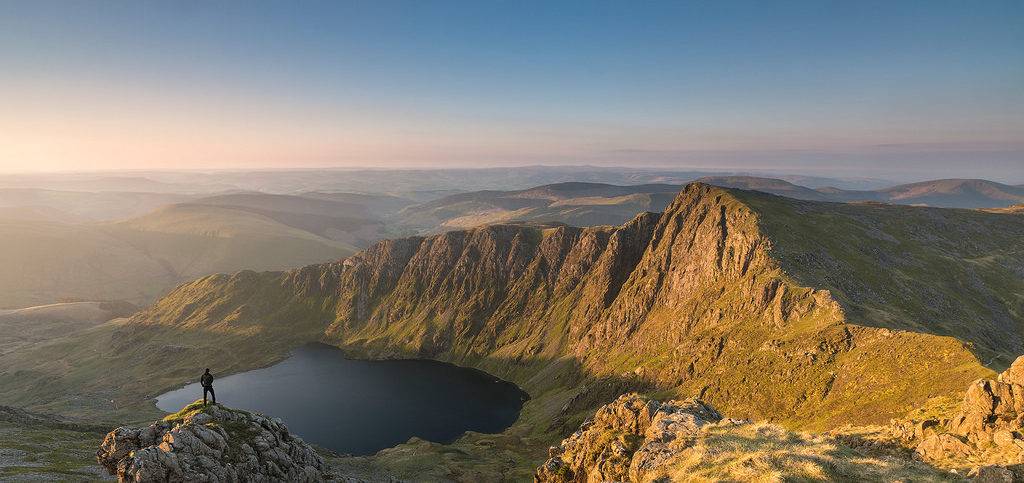 Tal-y-llyn Lake
The Tal-y-llyn Lake is located on a major fault line in Wales known as the Bala Fault, which extends from the Cheshire border to Tywyn on the Cardigan Bay coast.  The depression caused by this was likely carved out and deepened during subsequent glaciation periods. Until 1962, Tal-y-llyn Lake was regarded as the most southerly example of a lake formed in a rock basin, with a terminal moraine on top of the bedrock through which the river had carved a channel.  It is now understood that what appeared to be bedrock is, in fact, massive blocks of debris left by a large landslide.  An enormous scar on the valley side to the left of the foot of the lake shows the source of the landslide, and another landslide a few miles downstream caused the River Dysynni to divert into the adjoining valley to the north.

Local Tourism Websites
A selection of tourist information sites that may help you plan your visit.
Click here to view Show me Wales – a huge information resource for visitors across Wales
Click here to view Visit Mid Wales – explore Mid Wales
Click here to view Love Tywyn – things to do, places to stay and businesses in Tywyn
Click here to view The Wales Way – three national touring routes by foot, by car and by bicycle
Click here to view Visit Snowdonia – accommodation, things to do, attractions
Click here to view Snowdonia Attractions – some of Snowdonia's best attractions (including us!)
Click here to view Visit Tywyn – places to stay, places to eat, explore Tywyn and seafront webcam
Click here to view Visit Wales – things to do, where to stay, holidays and breaks, explore Wales
Click here to view The Great Little Trains of Wales – A Discount Card offering 20% off 11 Narrow Gauge Railways across Wales
Click here to view Salop Leisure – Operating many of the local caravan parks in the area
Click here to view Dioni, who provide high quality holiday Cottages throughout North Wales